Why should You Choose Acquia Cloud Hosting?
Acquia Cloud is a leader in Enterprise Drupal Hosting Services. It's a robust and scalable hosting platform that allows you to effectively govern your website portfolio by offering secure hosting along with a robust suite of development tools. It's an exhaustive platform to create, manage, and deliver scintillating, personalized digital experiences across web and mobile. Acquia cloud hosting powers some of the most premium websites in the world. It is backed by the expertise and knowledge of the open-source community. Acquia cloud offers a seamless way to maintain code and content across multiple sites while providing top-notch 24/7 customer and technical support.
How Can Echidna help you with Acquia Cloud?
Digital Echidna is a preferred Acquia partner. Our comprehensive Drupal and Acquia expertise enable us to deliver world-class and professional Acquia cloud solutions for your business. We have successfully strategized and deployed Acquia's award-winning cloud products and solutions across diverse industries such as entertainment, healthcare, and education. We also provide top-notch customer support and personalized engagement.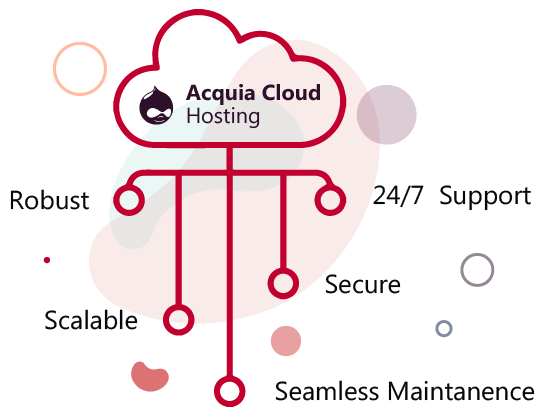 To get started on your Acquia project
Why Do You Need Acquia Cloud Site Factory?
Acquia Cloud Site Factory is a groundbreaking solution that allows you to manage hundreds of websites with impeccable security effortlessly. It unleashes a whole new playing field for collaboration, content reuse, and scalability. Even non-technical users can build fully-functional and content-rich sites quickly using the expansive template library, which makes it ideal for media, entertainment, and eCommerce companies. Digital campaigns can be executed swiftly with increased user engagement and cost reduction. The centralized dashboard unifies site management while the intuitive workflow controls allow you to define user roles and permissions easily. It allows for easy automation and maintenance for all your websites with unparalleled customer support.
How Can Acquia site factory implementers from Echidna help you with Acquia Cloud Site Factory?
We are a preferred partner with Acquia and are expertly trained and certified by them to manage the planning and deployment of Acquia Cloud Site Factory. We handle all aspects of the Acquia Cloud Site Factory, including updates and security aspects for all your websites mapped with this solution. Our client testimonials and positive feedback is a testament to our quality services and support.
Acquia Lightning
Acquia Lightning is a Drupal 8 distribution that allows organizations to ramp up the time to production by offering a flexible and powerful toolset to launch new Drupal projects. It will enable editors and content curators to take advantage of the user-friendly layout builder along with a host of modern templates to create and edit rich digital experiences. Its intuitive drag-and-drop feature lets you add images, videos, and content artifacts directly into layouts. It comes along with a useful preview feature enabling a streamlined authoring experience to engage visitors. It's quicker than core Drupal and offers the same level of security and scalability for your businesses.
How Can Echidna help you with your site development using Acquia Lightning?
We are well-versed with the deployment and administrative aspects of Acquia Lightning, owing to our status as an Acquia preferred partner. We can help your organization quickly adapt Acquia Lightning to create or edit Drupal sites swiftly. We also provide the necessary training to your content editors to acquaint them with the rich features Acquia Lightning has to offer.
Here is How Acquia Lightning helps you to manage your assets?
The Acquia Lightning Digital Asset Management (DAM) is a centralized digital asset library. It simplifies the management of all your creative assets like images, videos, and content artifacts (like PDFs). It synchronizes your assets as your sites grow and allow you to manage permissions and execute revision controls centrally. Foster collaboration with the image and video markup tools and use the audit trail feature to track changes, approvals, and revisions. The portal site allows you to distribute brand guidelines and share assets. The streamlined workflow tools let you generate notifications, escalations, and impactful analytics to enhance overall organizational performance.
How Can Echidna help you with Acquia Digital Asset Management?
Digital Echidna is a preferred Acquia partner. We are licensed and certified to manage all aspects of deploying Acquia Digital Asset Management Solutions for your organization. We will take care of everything from setup to integration of the Digital Management System with your existing infrastructure. On the other side, we will also be training your staff to leverage the full potential of the software.
Why Should You Choose Acquia Cohesion for website design?
Make stunning and feature-rich websites with low code using Acquia Cohesion. It's a flagship Acquia cloud product aimed at marketers/content creators to build websites faster and cheaper. It's an addon for Drupal customers, which provides drag-and-drop web elements that can be nested and arranged to assemble a fully-functional webpage. You can customize every component on your page to suit your brand guidelines and live preview it before you choose to share and publish. It empowers non-developers to swiftly build a site for content editors to make changes on the fly. It helps your organization to quickly replicate and reuse an approved design across all your websites.
How Can Echidna assist you in designing your website with Acquia Cohesion?
Our expertly trained and certified Acquia cohesion implementers can assist you with the deployment and integration of Acquia cohesion for your enterprise. We are a preferred Acquia partner and have enabled multiple organizations to get up to speed with building content-rich websites with Acquia Cohesion. It empowers them to reach more customers and increase their conversion rates.
Why your eCommerce business needs Acquia Commerce?
Acquia Commerce is a game-changing innovation for eCommerce portals that merges content with commerce to bring about a paradigm shift in your customer's shopping experience. It allows easy integration of your existing eCommerce ecosystem to Drupal's powerful content management engine and digital experience platform. Separate your front-end and back-end to infuse unparalleled flexibility and dynamism in your eCommerce experience by syncing product data with marketing content. You can create expansive catalogues with dynamic and personalized promotions for your customers. It effortlessly supports thousands of transactions and surges in site transactions, all the while ensuring a secure cloud platform that safeguards data and prevents downtime.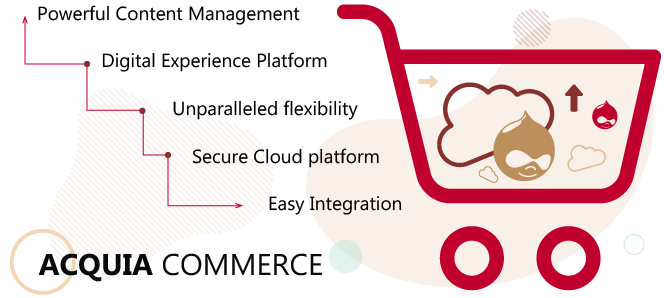 How Can Echidna assist you in building a secure eCommerce site with Acquia Commerce?
Digital Echidna is a preferred Acquia partner with trained and certified professionals who can expertly help you deploy and manage the Acquia Commerce manager for your business. We offer comprehensive solutions for Acquia Commerce deployment, which align closely with your business goals and empowers your team to amplify the customer base and turn casual visitors into buyers. 
To get started on your Acquia project