Agency for Co-operative Housing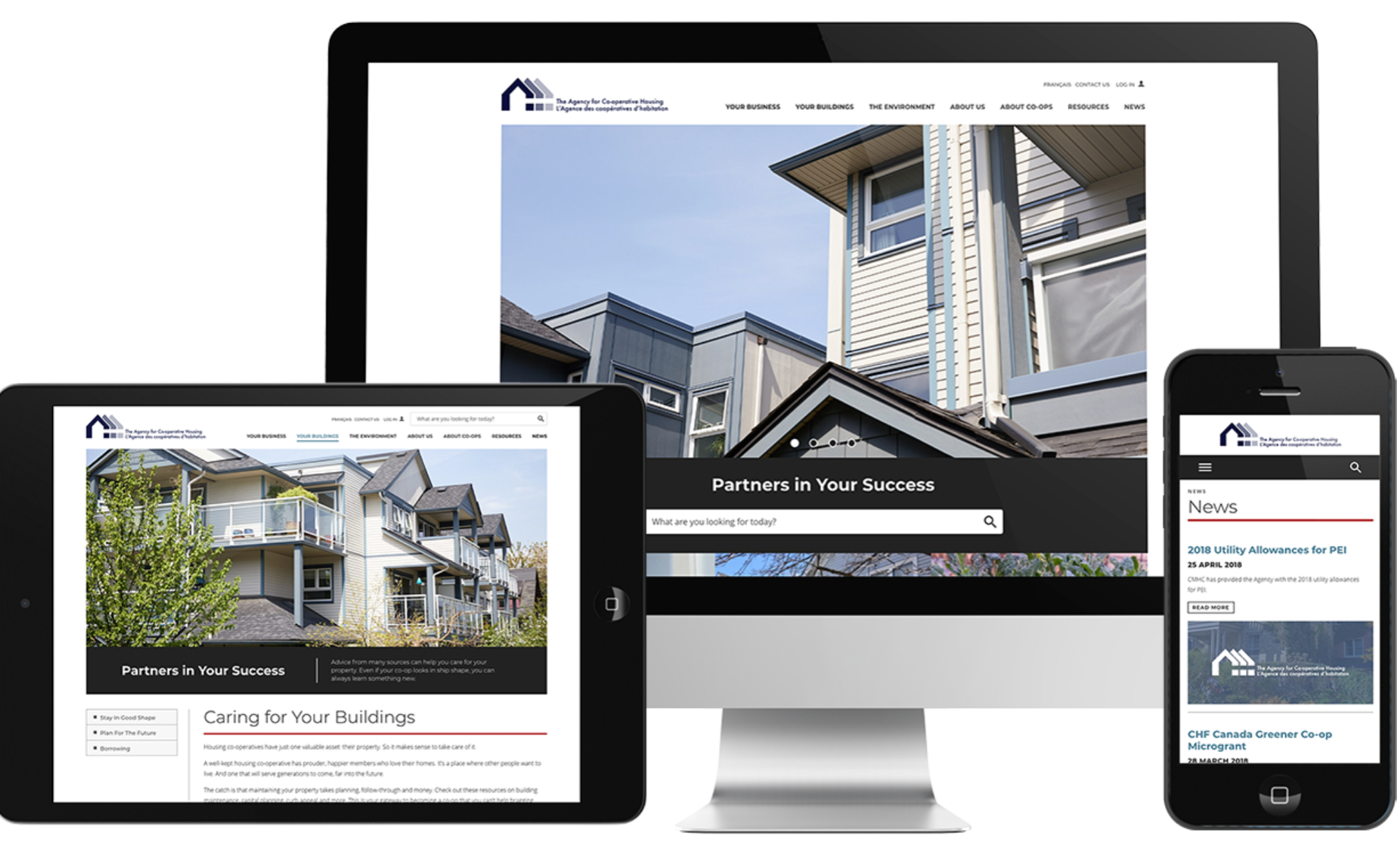 The Agency for Co-operative Housing is a unique and peerless source of housing co-operative data and responsible for administering federal co-operative housing programs in several Canadian provinces.
The Agency aims to inspire, inform, promote transparency, and drive action. Housing co-ops file reports and documents online, market their units, and find information about maintenance issues and programs. The Agency, in turn, combines raw data in ways to bring a better understanding of all co-op operations.  
Co-ops stand to benefit from having digital access to this information, and to information that is easy to access, analyze, and share. The problem? A noticeably static, text-heavy, 10-year-old brochure-style website full of broken hyperlinks put too much information behind a password-protected area. It focused too much on 'who' they are and 'what' they do, not enough on stories, data, resources, and information.
This was rectified by targeting the Agency's primary client - housing co-ops - and reorganizing content, making it accessible and manageable on a Drupal 8 content management system. There is still a password-protected area used to safeguard client data, but statistics, tools, reports, and other informative data is no longer included in that section.
Next, a new, multilingual, faceted Solr search with autocomplete that indexes PDFs, helps discoverability of content. Solr is an especially great fit for large, high-traffic Drupal sites like this one. It offers unique features that let users enjoy smart searching experiences and is intuitively understandable. 
Another new feature is the homepage interactive animation, which Digital Echidna prepared. The animation, which resembles a blueprint and serves an informational purpose, fits the brand and identity of a co-op agency. Never one to compromise on looks versus function, and not one to underestimate the power of a great-looking yet still UX-friendly site, we made sure that even with this animation, the site remains responsive - working on all formats from desktop to mobile, and that it does not slow down site load times.
This project, in its totality, consisted of discovery and requirements gathering, interactive animation, user interface design, wireframes, information architecture, graphic design and branding, responsive web design, WCAG 2.0 level AA compliance, content strategy, navigation planning and design, search engine architecture, taxonomy planning and design, and roll-out.
The Agency website today is an effective tool that amplifies and enhances Agency services. Available in both French and English, it is now easier for site administrators to share and post information, and for users find and interact with information. This UX-optimized site, with a visually captivating UI and interactive features, supported by the Drupal content management system, sets Agency for Co-operative Housing on a new path with a powerful and scalable, online presence.
Technical Features
AODA Compliant Development
Compliance to WCAG 2.0 Level AAA
Consultation and Project Planning
Content Management System Development
Content Strategy
Drupal Development
Enhanced Search Capabilities via Solr
Information Architecture and UX/UI Recommendations
Navigational Structure
Responsive Design
Web Development